We make gold cannabis jewelry and tools, inspired by the plant.
We make it all in Canada.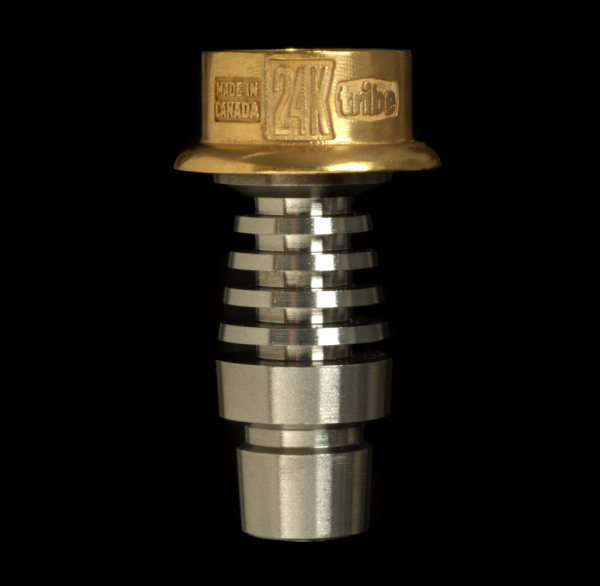 Tribe makes cannabis jewelry and other specialized products in gold, platinum and silver. We were established in 1993 and are based in Toronto, Canada.
We're a proud member of the Canadian Jewelers Association. The Government of Canada has authorized tribe to use  Canada's National Precious Metals Mark on our products. It's Canada's highest mark of quality for precious metals products.
SOLID GOLD DABBING NAILS
We make fully functional, medical grade products in pure precious metals. Tribe custom makes nails in 9999 pure gold sourced from the Royal Canadian Mint, like the 24K gold EMPEROR nail pictured above.
Our sterling silver and 10K gold grinders are world renown. From our minimal model #1 grinder design containing a half pound of silver, to more complex gem or Canadian diamond set grinders, let us make something special for you.

In 2018, we developed a process of converting cannabis flower buds into solid precious metal buds. The organic bud is destroyed in this process and replaced with precious metal. Every detail and the true spirit of the plant is captured.
We now produce a collection of cannabis jewelry cast directly from the cannabis plant. By special order we make buds in gold that you can wear as pendants, and bracelets out of cast cannabis stems and roots in gold and silver. Tribe makes cannabis stem wedding bands in platinum and 18K gold. We make ear studs out of cast cannabis seeds in 14K and and 18K gold.
OUR ALL-CANADIAN MAKER TEAM
Our all-Canadian maker team includes a master metal and wax model carver, two exceptional diamond setters, a micro pave stone setter, a master fine precious metals caster, a master gold & platinum polisher. We have a master gem cutter with over 40 years experience and another experienced gem cutter who specializes exclusively in Canadian gemstones. Two master jewelers do the fine assembly of our precious metal jewelry here in Toronto.