Luxury cannabis jewelry in precious metals inspired by the plant and Made in Canada.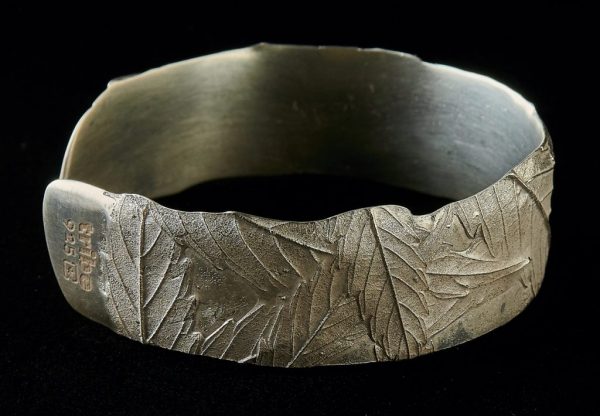 Tribe makes luxury cannabis jewelry in precious metals. We were established in 1993 and are located in Ontario, Canada. We custom make all our products right here in Canada with North American materials.
You might have heard about the crazy Canadians making precious metal jewelry pieces and solid gold rigs from cannabis plants… That's us!
Check out the Sterling Silver cuff bracelet pictured above. It was growing in the ground just a few weeks ago. Banana Cream Cake #1 of 1. We cast it from live cannabis leaves to create a vibe like you were inside a bushy cannabis plant, looking out at the world through the leaves. Want it? Contact us.
We produce precious metal casts directly from cannabis plants; turning seeds, roots, leaves, buds and even sprouts directly into mind-blowing luxury cannabis  jewelry. Wear the Plant, as we like to say.

Each one of our pieces is a unique collectable piece you can wear. Scarcity is built into each and every product we make. We only manufacture a limited number of pieces each year and they are sold exclusively though this website. See what's available now by clicking the menu link at the top of this page.

Looking for something extra special? We manufacture custom luxury cannabis jewelry products year-round for private clients all over the world. If you want your own creation, we will work with you from design to completion and make it happen. If you see something we've made before and want us to make it again for you, contact us for a quote.
We're a proud member of the Canadian Jewelers Association. The Government of Canada has authorized tribe to use  Canada's National Precious Metals Mark on our products. It's Canada's highest mark of quality for precious metals products.
OUR ALL-CANADIAN MAKER TEAM
Our all-Canadian maker team includes metal and wax model carvers, diamond setters, micro pave stone setters and a master fine precious metals caster with over 30 years experience. We have a gem cutter with over 40 years experience and another gem cutter who deals exclusively in Canadian gemstones. Two master jewelers do our fine assembly in Toronto.