DOGBUDS
Sterling Silver Cannabis Bud Charms For Dogs AND Dawgs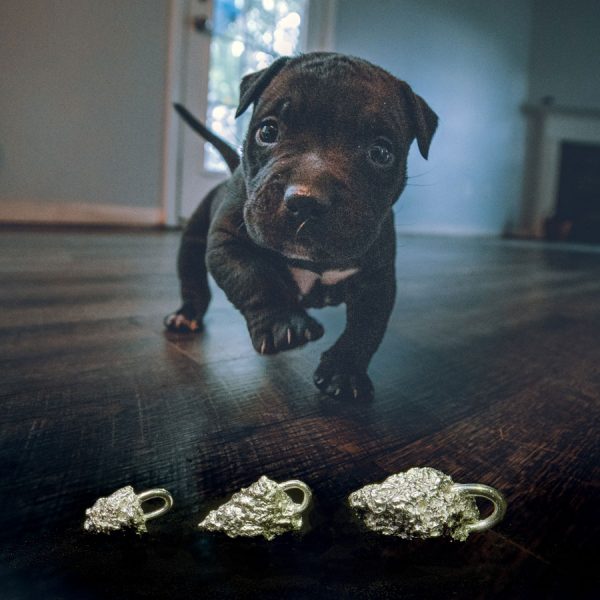 DOGBUDS are Sterling Silver Cannabis Bud Charms for Dogs AND Dawgs!
We invented DOGBUDS to be the highest end cannabis dog charms on the planet. We make them individually here in Canada and no two are alike. But Dawgs love our DOGBUDS too, because they're perfect cannabis jewelry for key-chain fobs, or heavy necklace pendants!

These Sterling Silver buds are built tough for doggy / dawgy adventures like tearing through thick bush or urban landscapes. For rocking a mic in front of a packed house, for sitting in your pocket bringing you good luck at that investor conference in NYC.
We sink a strong silver loop deep and low into the DOGBUD so it won't catch or hang. These are beautiful pieces meant to last generations. You'll be passing it on to your grandkids.

No ordinary bling, our limited edition DOGBUDS are solid Sterling Silver charms cast from real Canadian cannabis buds (we grow our own) with silver from the Royal Canadian Mint. Each is individually cast and slightly different. No cannabis remains in the bud, just Sterling Silver and the true spirit of the plant.
In addition to your dog's / dawg's name, precious metal purity mark and our maker's mark, each bud bears Canada's National Precious Metals Mark, our country's highest mark of quality for precious metals products.

Doesn't your dog or dawg deserve one?

Marking
Maker Mark: tribe
Certification: Canada's National Precious Metals Mark
Purity: 925
Size Selection
SMALL BUD
MEDIUM BUD
LARGE BUD
*** Shipping is included within continental USA and Canada
*** We'll engrave your name right next to the precious metal hallmarks at no additional charge