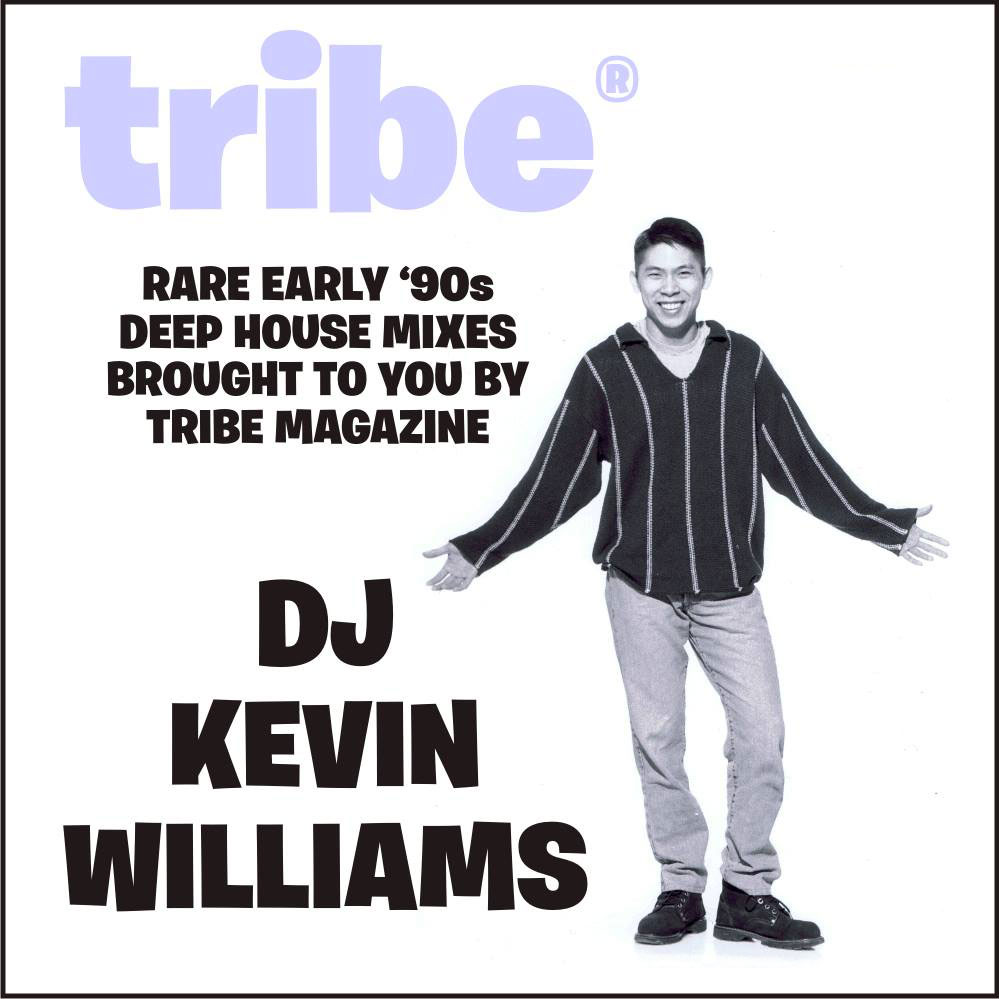 Kevin Williams DJ Profile, TRIBE, Toronto 1993
The cheers from the crowd on the dancefloor could be heard over the sound of the killer audio system. Hands were waving in the air. People even on the edges of the room were dancing'. In the booth, I could see the DJ going through records like water – playing only a second or two of a song and inserting it into the deep house main track that was playing. The crowd began to chant. The reaction would have been expected had the DJ been playing hits (Which is the easy way to get a reaction), but the DJ was playing stuff that only a handful of people at the club had probably heard. Brand new house tracks from Italy, New Jersey, London, or New York. Kevin Williams was in the booth…
Kevin is responsible for bringing the latest to Toronto clubgoers. While he may seem like a newcomer on the DJ circuit, he has definitely paid his dues behind the Technics 1200's. A quiet guy, Kevin was almost reluctant to say anything at first because he knew our tape recorder was running. But he did loosen up considerably when conversation drifted away from "him" to music. House music.
Kevin got his start some years ago playing parties for the CSA (Chinese Students Association), and other private events. From there he wound up doing a restaurant-club type venue in downtown Toronto (he almost winces when he talks about it so we won't tell you where it was). Then he got hired by GoGo (late of Richmond and Duncan Street) to replace Mark Oliver, and wound up doing three to four nights a week when the club was peaking. He says it was really something; he on one floor and James St. Bass on another, competing to see who could pack more people on their dancefloors.
From GoGo Kevin got hired by the Kat Club as their main spinner and he just rams the place on Friday nights. He also does ThunderGroove Sundays at OZ.
You can tell when Kevin is playing when the crowd consists of the really cool house crowd, the top Toronto DJs, employees from other dance clubs, and staff from the dance radio stations. A very finicky crowd at best, but Kevin has them grooving all night.
Secret? He doesn't play many hits. He plays about 80% new and 20% old (hits). He tells us that people begin to dance to the new, and only like it more when they hear the occasional hit. Other DJs get into trouble when they play 80% hits and 20% new – people expect to hear the stuff they know and won't dance unless they hear it.
Kevin's content is similar to what you would hear at an excellent warehouse party in Toronto, Montreal, or New York, except his venues are Toronto nightclubs. The tracks change weekly, as he buys lots of new material, but he often will surprise you with something really old, or something that slipped by every other DJ in the city.
What is House Music? "Something you haven't heard." That is as close as Kevin can come to describing the tracks he strives to bring to his audience. He says that the tracks have a very short lifespan. That as soon as they are played on the radio they are not house music any more, and as soon as everyone starts asking for them, its time to put them away. What really distinguishes Kevin from his colleagues is his mixing. Blending track after track so smoothly that even experienced ears can't tell when a mix is starting or finishing. Often, the songs are locked together so tight during a mix that they phase, which only adds to the slickness of the blend.
The future? Well, Kevin says he's a little apprehensive about being recognized (which is likely to happen do to the smashing success of ThunderGroove Sundays at OZ). Although he told us a story about being in a store one day looking at a flyer with his name on it and some guy noticed the flyer and said: "I know that guy, Kevin Williams." Kevin responded "Oh yeah? How is he?" The kind of visibility that comes with being one of the top DJs in this world class city of ours he may not want, but hey, we think he'll handle it real well. And we can't wait until that guy in the store finally realizes who he was talking to. One thing is for certain, as Kevin becomes more well known, his ability to get promo releases from the US labels will increase, and this will only give him more new stuff to drive us wild with on Sunday and Friday nights. Keep us grooving Kevin!
From TRIBE MAGAZINE ISSUE #1, July 1993. Kevin was interviewed by Publisher alexd in Toronto.
Red Dividing Line
Red Dividing Line