LEGACY: THE TRIBE MAGAZINE PHOTO EXHIBIT
Witness the birth of electronic music in Canada. Rare digitized film, slides and artifacts from tribe magazine will take you deep into raves, warehouse parties and events from 1993 and beyond.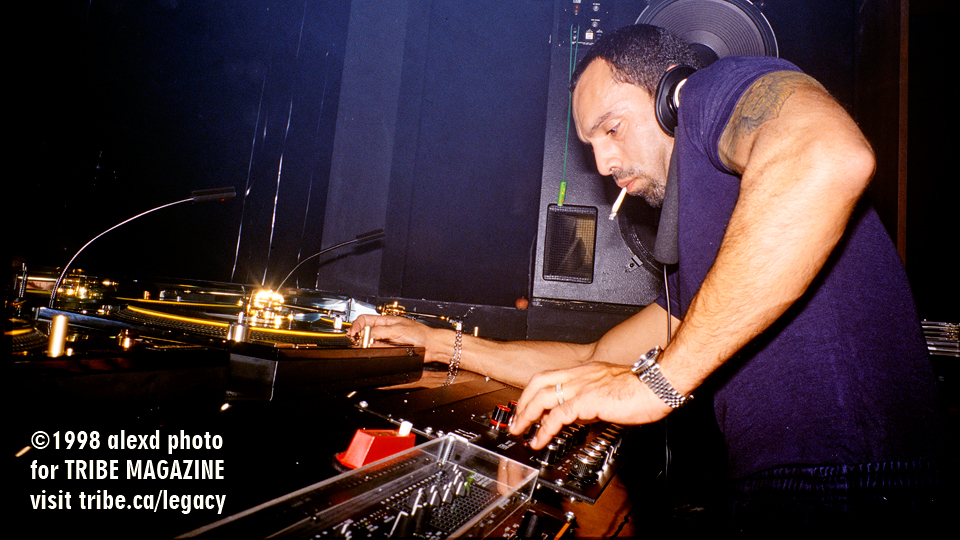 David Morales, Stereo Launch Party, Montreal, 1998.
I've always liked David Morales. His knowledge of disco and house music is immense, his remixes are some of my most favorite tracks. His remix of De La Soul's track Saturdays (De La Soul – A Roller Skating Jam Named "Saturdays" (6:00 A.M. Mix)), is a perfect example of his skill as a master remixer.
So I was especially happy to be in the booth with him for most of his set at the Stereo launch party in Montreal in 1998. Shooting, listening, watching. I'd seen him play often, but I'd never seen anyone play on 1200's with gold plated tonearms before, so that was a first. About midway into his set I watched David put a Jocelyn Brown accapella on the far turntable and turn off the power. Spinning it to speed with his finger, over and over, dropping vocals into an instrumental house track playing on another, powered, turntable. Holding the perfect pitch of the vocals with his spinning finger. I had never seen anything like it.  After about 2 minutes of doing this live remixing he turned to me and said "Wow, I've never done anything like that before!"

 * Tribe is a registered trademark of Alex Dordevic, used under license by tribe communications incorporated.