LEGACY: THE TRIBE MAGAZINE PHOTO EXHIBIT
Witness the birth of electronic music in Canada. Rare digitized film, slides and artifacts from tribe magazine will take you deep into raves, warehouse parties and events from 1993 and beyond.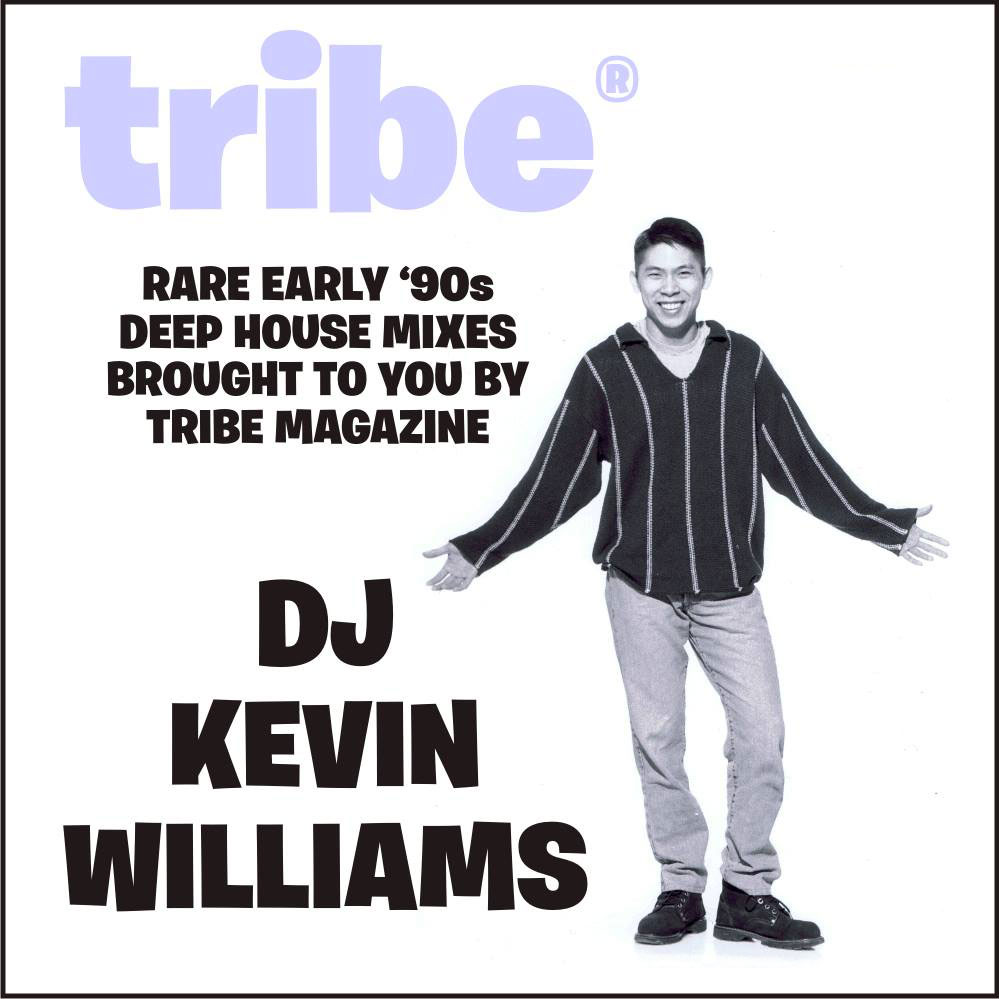 Kevin Williams DJ Profile, TRIBE, Toronto 1993
The cheers from the crowd on the dancefloor could be heard over the sound of the killer audio system. Hands were waving in the air. People even on the edges of the room were dancing'. In the booth, I could see the DJ going through records like water – playing only a second or two of a song and inserting it into the deep house main track that was playing. The crowd began to chant. The reaction would have been expected had the DJ been playing hits (Which is the easy way to get a reaction), but the DJ was playing stuff that only a handful of people at the club had probably heard. Brand new house tracks from Italy, New Jersey, London, or New York. Kevin Williams was in the booth…
Kevin is responsible for bringing the latest to Toronto clubgoers. While he may seem like a newcomer on the DJ circuit, he has definitely paid his dues behind the Technics 1200's. A quiet guy, Kevin was almost reluctant to say anything at first because he knew our tape recorder was running. But he did loosen up considerably when conversation drifted away from "him" to music. House music.
Kevin got his start some years ago playing parties for the CSA (Chinese Students Association), and other private events. From there he wound up doing a restaurant-club type venue in downtown Toronto (he almost winces when he talks about it so we won't tell you where it was). Then he got hired by GoGo (late of Richmond and Duncan Street) to replace Mark Oliver, and wound up doing three to four nights a week when the club was peaking. He says it was really something; he on one floor and James St. Bass on another, competing to see who could pack more people on their dancefloors.
From GoGo Kevin got hired by the Kat Club as their main spinner and he just rams the place on Friday nights. He also does ThunderGroove Sundays at OZ.
You can tell when Kevin is playing when the crowd consists of the really cool house crowd, the top Toronto DJs, employees from other dance clubs, and staff from the dance radio stations. A very finicky crowd at best, but Kevin has them grooving all night.
Secret? He doesn't play many hits. He plays about 80% new and 20% old (hits). He tells us that people begin to dance to the new, and only like it more when they hear the occasional hit. Other DJs get into trouble when they play 80% hits and 20% new – people expect to hear the stuff they know and won't dance unless they hear it.
Kevin's content is similar to what you would hear at an excellent warehouse party in Toronto, Montreal, or New York, except his venues are Toronto nightclubs. The tracks change weekly, as he buys lots of new material, but he often will surprise you with something really old, or something that slipped by every other DJ in the city.
What is House Music? "Something you haven't heard." That is as close as Kevin can come to describing the tracks he strives to bring to his audience. He says that the tracks have a very short lifespan. That as soon as they are played on the radio they are not house music any more, and as soon as everyone starts asking for them, its time to put them away. What really distinguishes Kevin from his colleagues is his mixing. Blending track after track so smoothly that even experienced ears can't tell when a mix is starting or finishing. Often, the songs are locked together so tight during a mix that they phase, which only adds to the slickness of the blend.
The future? Well, Kevin says he's a little apprehensive about being recognized (which is likely to happen do to the smashing success of ThunderGroove Sundays at OZ). Although he told us a story about being in a store one day looking at a flyer with his name on it and some guy noticed the flyer and said: "I know that guy, Kevin Williams." Kevin responded "Oh yeah? How is he?" The kind of visibility that comes with being one of the top DJs in this world class city of ours he may not want, but hey, we think he'll handle it real well. And we can't wait until that guy in the store finally realizes who he was talking to. One thing is for certain, as Kevin becomes more well known, his ability to get promo releases from the US labels will increase, and this will only give him more new stuff to drive us wild with on Sunday and Friday nights. Keep us grooving Kevin!
From TRIBE MAGAZINE ISSUE #1, July 1993. Kevin was interviewed by Publisher alexd in Toronto.
Red Dividing Line
Red Dividing Line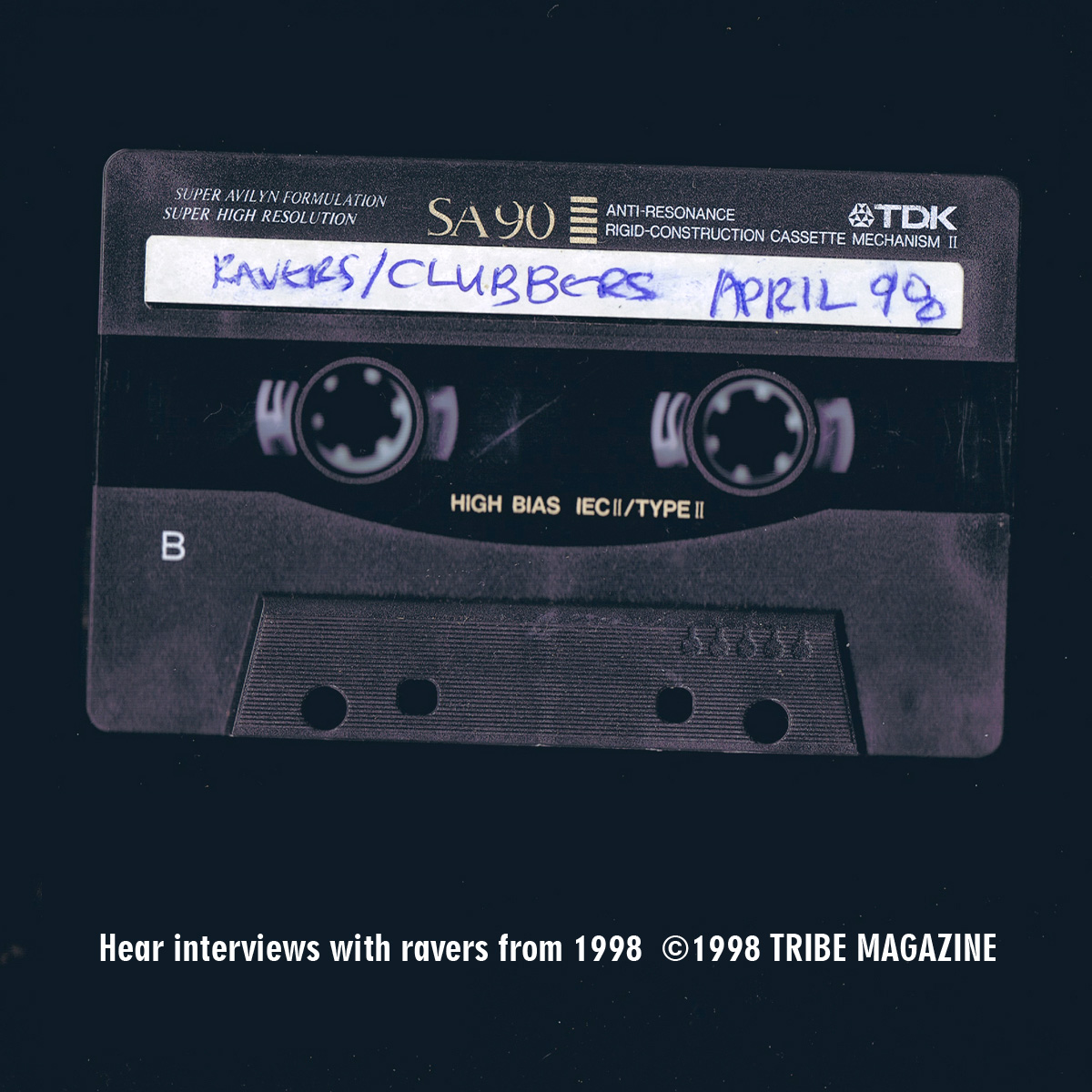 Ravers Interviewed in Toronto, April 1998
Interviews with ravers in Toronto April 1998, a lost interview. The rave scene was getting commercial, bigger, but the winds were about change for the scene in Canada… These ravers describe this moment in time exactly. It is like a time capsule of a scene maturing. The innocence is refreshing.
35 minutes

Download:

https://drive.google.com/file/d/1w6FC7-lTkS7Gl8bzX48Am_hMoHBxFPpd/view?usp=sharing
Red Dividing Line
Red Dividing Line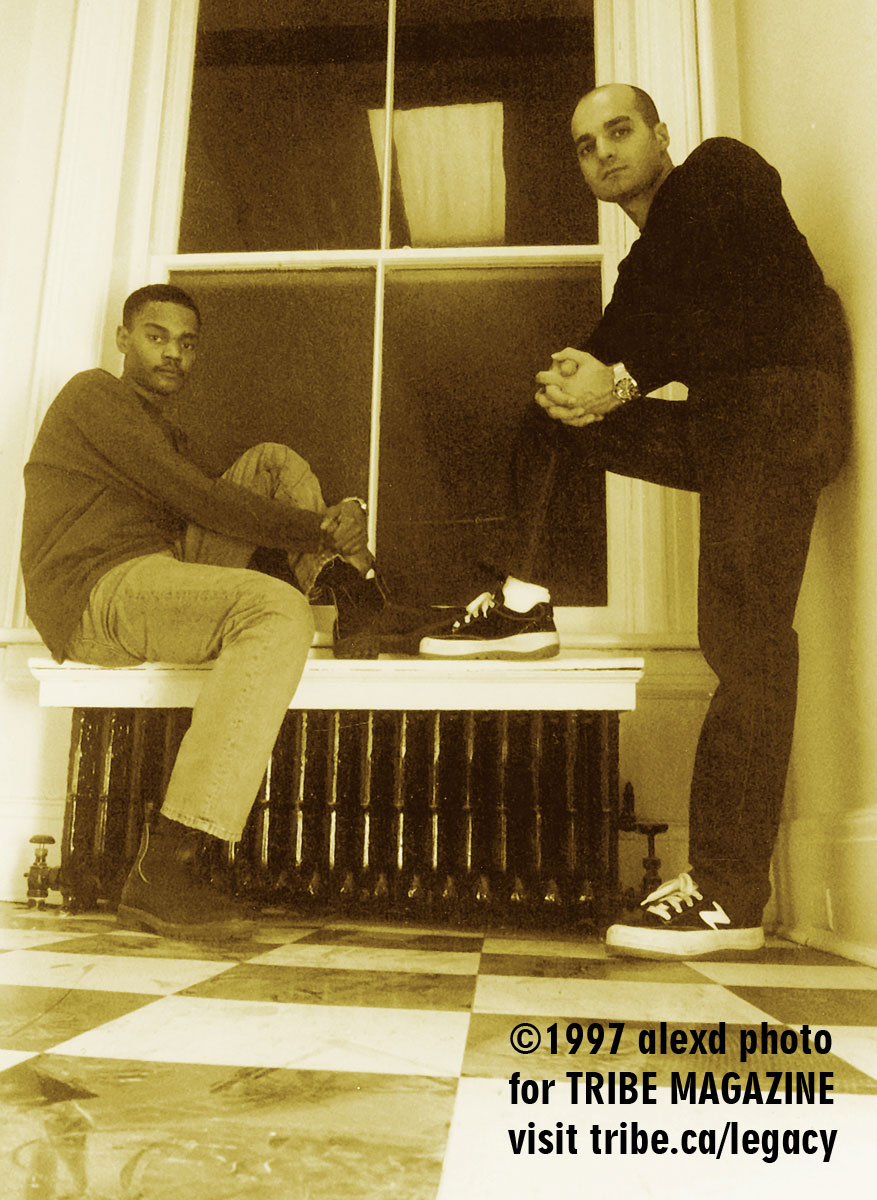 Tyrone Solomon and Peter Primiani 83 West Records, Toronto 1997
Tyrone Solomon and Peter Primiani of house music label 83 West Records at their 2 College Street office,  Toronto, 1997.
Red Dividing Line
Red Dividing Line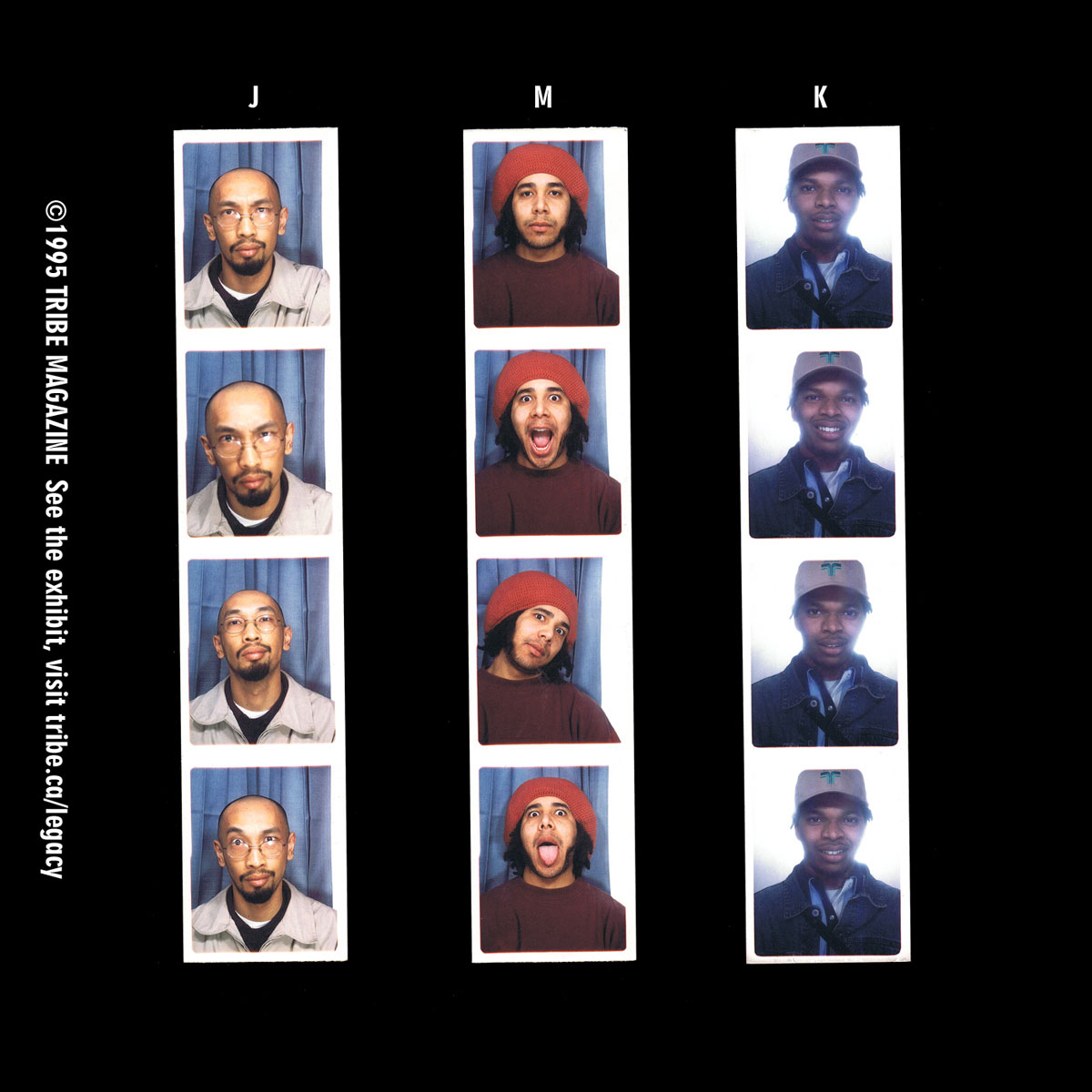 JMK DJ Crew – Toronto 1995
Jeremy, Mike and Kenny were a house music DJ crew in the warehouse party scene in Toronto in the early to mid 90's. They played after the bars closed in the various industrial spaces in the fashion district downtown. I gave them the assignment to get their own pictures for a DJ profile by visiting the photo booths that used to exist in the TTC subway stations back in the day, and this is what they brought back. Excellent, don't you think?
JMK = Jeremy Beckman, Mike Sitchon, Kenny Glasgow
Red Dividing Line

Red Dividing Line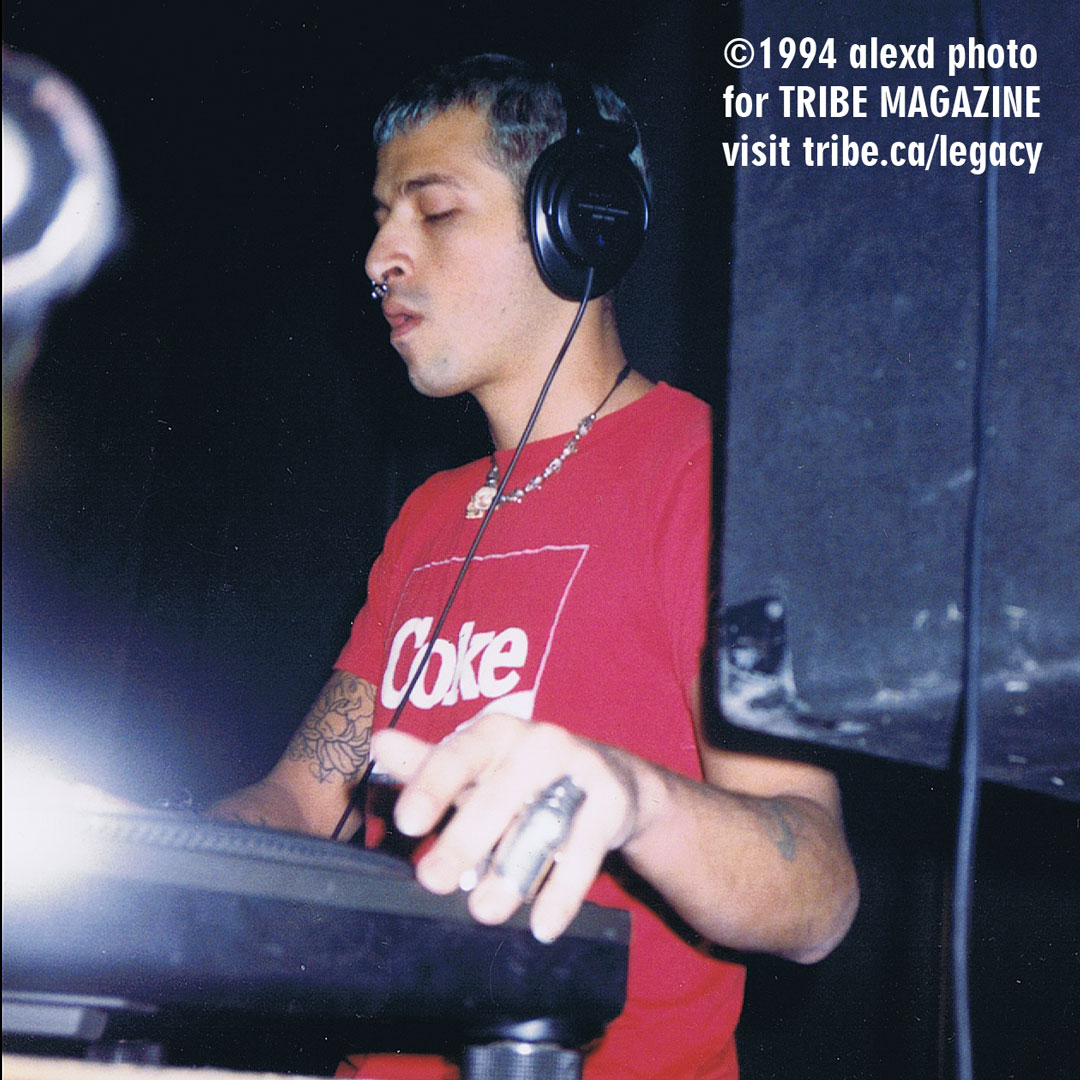 Keoki live at Better Days Close to the Edge – Toronto 1994
This was the Better Days rave in the Leslieville neighborhood of Toronto on December 3, 1994.
Download the set Keoki was playing at the exact moment I took this photograph at this link . It's really good.
Red Dividing Line

Red Dividing Line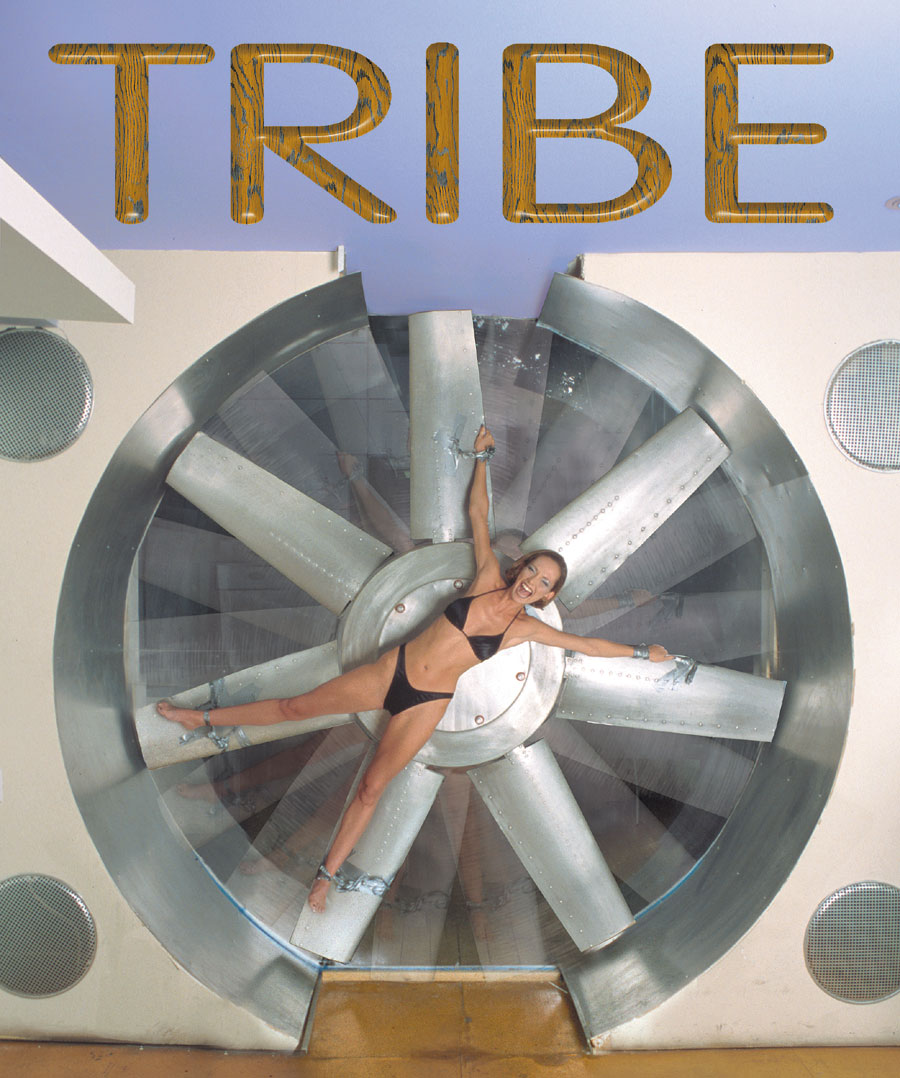 Summer Breeze: TRIBE MAGAZINE Cover 52 1998
In 1994, I wanted to get some TRIBE T-Shirts made, so I went to a place on Richmond Street in Toronto, a short distance from 23 Hop. It was in one of those big open woody warehouses you see in Fashion Districts. There were two tables on the entire open floor, one with a screen press and the other had a battered PC on it. There was an enormous fan on the wall. I said to the T-Shirt dude, "Dude! That's the biggest fan I have ever seen!" He told me that it didn't actually work, it had been left there by William Shatner's crew when they were doing that TEKWAR TV show.
Four years later I was called down to a new nightclub on Adelaide Street. The owner wanted to talk about advertising in TRIBE. I can't even remember what the club was called, or the owner's name now, but I went down there to try and sell them ads in the magazine.
As soon as I got to the top of the stairs I saw the giant fan.
It spanned the entire width of the tiny club against the back wall. It was fucking amazing. The owner had built an entire venue around the giant fan. The club owner had bought it from someone else who had bought it from T-Shirt guy. It was a strange science fiction totem being passed from one entrepreneur to the next.
Later that night I went to the Big Bop for a jungle party, still thinking about the migrations of the fan. In the main room, across a mostly empty dancefloor, I saw a jungle beauty lounging against the bar. Mint colored sweats, bare midriff, bathing suit top, baseball hat pulled very low over the eyes. Jungle stylz. Prepared for dancing hard. Dayna.
Immediately I knew she had to go on the fan, like a diamond set in a ring, with duck tape.
So I asked her, and she graciously agreed! And here's the cover image we shot – Summer Breeze – one of my personal favorites.
Red Dividing Line

Red Dividing Line
DJs D-Monic and Jelo, Bassmint, Toronto 1998
Dan trainspots a track as Jelo spins in the notorious bassmint nightclub at Bathurst & Queen.
Red Dividing Line
Red Dividing Line
 * Tribe is a registered trademark of Alex Dordevic, used under license by tribe communications incorporated.